A few days ago, I announced on my personal journal that I had gotten my resident fictional Bostonian lunatic, Elisa (Ells) Robbins, to write up a little summary of what the 2007 season meant to her. Normally she is noted for saying things like, "When Jacoby Ellsbury stole home from second base on a wild pitch back in July, the straight women and gay men of New England collectively orgasmed," but here she is surprisingly eloquent (for her, anyway) and says some pretty nice things.



Elisa Robbins Sums Up Her 2007:



Wow, we actually won! I was convinced that the NLCS would go seven games and the Rockies would go on to sweep the AL team for a bit, but once they won in four and we had to go the seven ourselves I had a feeling we had a chance because all that time off hurt Detroit last year. We didn't just win, though - we won in spades!

Let me tell you, this Bostonian is totally stunned and doesn't know what to think. Success isn't something this town is used to yet. Most World War I veterans and others alive during those glory days have passed away, so nobody remembers them. It's also really weird to see the Yankees failing, and it puts me in an awkward place as a fan. I'm used to the insults and being on the perpetually losing side of the rivalry - and now we're the dominant ones, with two World Series victories this century, and they're losing Torre and A-Rod and many other people who keep them competitive. It's so wicked confusing.

I watched the 2004 World Series from Sgt. Karen Cunningham's living room in Cincinnati, Ohio. There was a war on then, and less than a month later I found myself convincing my fellow Bostonians to rise up against the Fangirl Army, which had decided to occupy the city. This time around, I won't be doing that, thankfully. Celebrate the way you're supposed to, Boston!

In July, I had a Jacoby Ellsbury jersey custom-made after he stole home from second on that wild pitch. My reasoning? Boston has two fast people with 'Ells' in their mane now, and whilst the international racing license does make me the swifter one by a long shot I just knew Jacoby had something. I actually wore the jersey to several of LaGuardia's IndyCar races (I attended nearly all of them - I missed the early ones as I was in canon at the time), so there is documented evidence on television footage somewhere that I've been on the Ellsbury bandwagon (speedwagon?) longer than most people. (Also, if he and I get married my name becomes Ells Ellsbury.) Actually, speed and the name inside, we have one more thing in common - when I was a kid, I was a center fielder, too. I bet you thought I was going to say it was our sexiness, didn't you? Okay, kidding. My main point? Jacoby is the center fielder of the future (sorry, Coco!) and he simply can't be stopped.

My creator (
1863_project
), as you surely know, is fascinated with Dustin Pedroia. She has her reasons, the biggest being his eerie similarities to Dustin Thatcher, one of the main characters in her novel (
Londinium
) and someone who's become a pretty good friend of mine over the years. I spent most of this year trying to get Thatcher to like baseball after I discovered how disturbingly good he was at it on the Wii. He'll deny it, but I succeeded, because he proved he cared during Game 7 of the ALCS when someone from Cleveland (I can't remember who) doubled off the Monster and he said, "Oh, fuckin' 'ell!" I also turned him into a "Rally Thatcher" by dressing him up as Pedroia, eyeblack and all. (I wore my Ellsbury jersey and said I was the "Rally Lobbinsy" to make him feel better about it.)
And after Game 3 of the World Series, when Ellsbury and Pedroia went a combined 7-for-10, I got him to hug me. Consider him converted.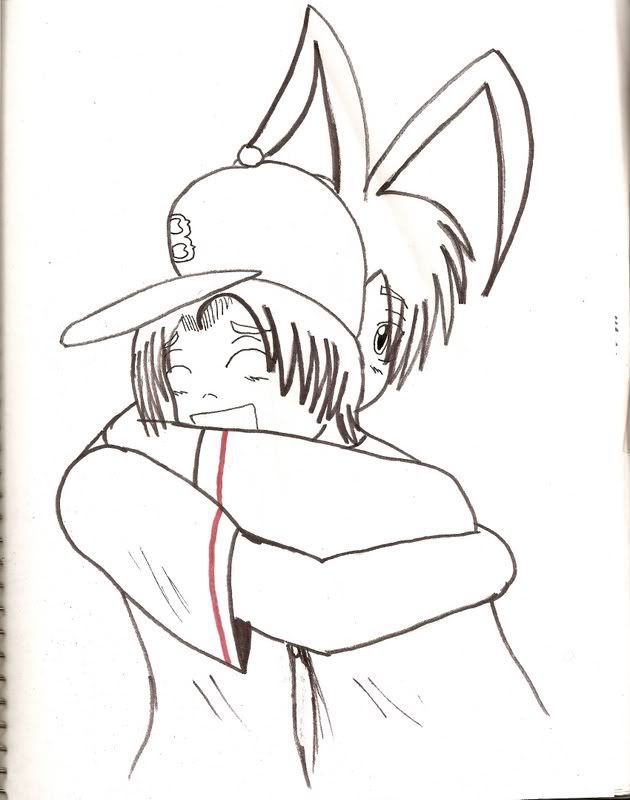 (My creator's black-and-white-with-red-highlights rendering of this momentous event. Image credited to her.)

This season wasn't about trying to bring baseball to Victorian London, though. It was about a bunch of different people from all over the world coming together to achieve something. They came from several countries - Canada, Japan, the Dominican Republic, the United States and surely others - and different walks of life. Two of the rookies played against each other in college only a few years ago. Eight players from 2004 remained on the team this year. The bullpen revealed its musical talent. We had the only 20-game winner in the MLB, and now he might win the Cy Young Award. We also probably have the AL Rookie of the Year, who is listed at 5'9" but is definitely shorter than that, and we might even have next year's AL Rookie of the Year as well (your choice between Ellsbury and Buchholz).

Oh, and we have a closer who jigs in a kilt. That, too.

There were geniuses - Alex Cora springs to mind - instead of idiots this time around. The MVP of the World Series was a throw-in in a trade, but he needs to be re-signed (now, Theo!). At the end, contributions came from people no one expected to come through, like Lugo, Drew and Kielty, and from people whose middle name is "Clutch," like Papi, Manny, and the master of the postseason complete game shutout, Josh Beckett. The kids all got their turn in the spotlight - Clay Buchholz threw a no-hitter on September 1st, Jon Lester beat cancer and then beat the Rockies in Game 4 of the World Series, Dustin Pedroia defied expectations and became the best second baseman we've had in years, and Jacoby Ellsbury won New England's hearts (and all the tacos America could eat). Manny Delcarmen of Hyde Park probably dreamed about achieving this his whole life - and I couldn't be happier for him (and more jealous, as my friends and I all wanted to do it, too!). Not far removed from the rookies are the practically errorless Kevin Youkilis and Jonathan "/tomfoolery" Papelbon (yes, I read

The Dugout

), whose enthusiasm and skill carried this team all season. And then there was the surprise hero of this team, Hideki Okajima - who would have thought he'd be such a genius? I'm sure that this was an adjustment year for Matsuzaka, too - he'll probably live up to his potential next year - but Okajima came out of nowhere and stepped bravely into the spotlight. Amazing.

The veterans were not to be outdone, though. Curt Schilling came back a changed pitcher halfway through the season and turned out to be fantastic. Jason Varitek - where do I start? He's the captain, and it showed all season, especially considering that he called some of the best games of his life this year. Wakefield was forced to step down due to injury, but he did so maturely and let Buchholz and Lester take his place. And Timlin's leadership out in the pen was necessary. He's not their admiral for nothing!

There are a few people who deserve an extra commendation, though, namely Terry Francona and the coaching staff, Theo Epstein, and the Red Sox ownership and front office. I know that not many people are going to give them the credit they deserve, so I'm doing it here. Well played, all of you. Well played - and well planned. Now re-sign Mike Lowell.

It's been a crazy season, from the Mothers' Day Miracle to Clay's no-hitter to actually winning the division...and to our wonderful postseason. I simply can't believe

any

of this happened, but I guess it did. I mean, I just watched the victory parade and it's still not sinking in!

About that parade...here's my only complaint about this season: shame on you, parade planners, for separating Beckett and Papelbon. You ruined the dance party we were all looking forward to. Paps made do with Timlin and Okajima for us, but Josh made us a promise, and you prevented him from keeping it.

Don't do that next time. I just know there's going to be a next time for some reason. For once, New England is feeling it.


So there you are, some thoughts on 2007 written by a fictional Bostonian with weird hair (yes, that is her real hair, by the way - in that image, Thatcher is the one in the front). I know, she makes some references to people from her life who she served with in the War on Fangirlism from 2004 to 2007, which you can ask her about if you're really curious (I'm sure she'll be willing to tell you so you can help her combat Mary Sueism), but otherwise it's pretty straightfoward. Ells is a New Englander who remembers the past and is totally excited and confused about the future, like most New Englanders old enough to recall the agony of years past (she's afraid that the kids might grow up entitled and spoiled, like some Yankees fans who were young in the early 90s did).

She's also fictional, which makes her cooler than me and makes it possible for her hair to be the way it is. Ah, being fictional.